Brands Need to Consider Martech Investments Wisely: Report
As martech becomes a bigger budget line for marketers, brands must carefully consider when and where they make investments.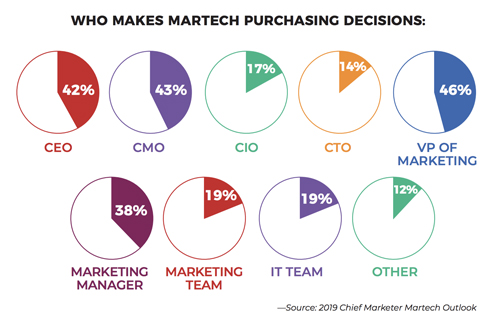 More than half of respondents to this year's Chief Marketer Martech Outlook survey said they expect marketing technology budgets to increase in the next 12 months. That's great news for brands—and martech vendors. But before you buy, you need to carefully consider what purchases make the most sense for your organization.
Ashley DePaolo, president of CommCreative, notes that she frequently has conversations with B2B clients wanting to invest more in their martech stack.
"We try to coach clients that unless they have the content and programs to fuel [such expenditures], stop," she says. "Martech isn't a bandage to help you keep up with bandwidth. Investing without a strategy will lead to you ending up with a very complicated tech stack that won't really help you nurture leads."
Technology, a good CRM system, marketing automation and a marketing analytics platform that are set up to meet your brand's needs are table stakes. But beyond that, it doesn't make sense to go crazy out of the gate, DePaulo says. "You don't need a lot. Start small and add as it makes sense."
---
You May Also Enjoy:
---
CMOs (43 percent), CEOs (42 percent), marketing VPs (46 percent) and marketing managers (38 percent) were the leaders most likely to be responsible for making martech purchasing decisions, according to Chief Marketer's research.
Marketers looking to invest in technology need to consider their investments from several different angles, notes Siddharth Taparia, SVP and head of strategic ecosystem marketing at SAP.
"Ultimately, what does the technology do for the customer? Does it provide a more personalized experience? Does it capture the information you're looking for? Does it make a sales transaction easier? Does it make marketing more efficient? That is the guiding principle."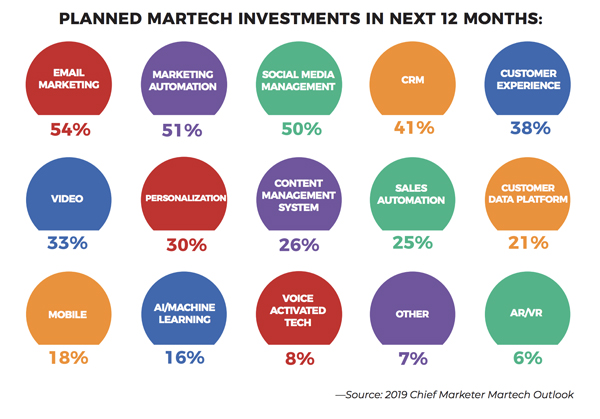 As marketers invest in technologies such as AI and machine learning, it is important to understand how to get the most effective ROI from those investments, he says. "We need to identify our customers and think about how we can [use] the information we have about customers to provide the right information at the right time for the entirety of the customer journey."
The volume of solutions on the market (50 percent) and a lack of available budget (45 percent) were the two biggest hurdles to optimizing martech and making purchasing decisions. Respondents also cited frustration in how quickly solutions could become outdated.
"The idea that as soon as you buy or subscribe to a solution a new one could come out and claim to be better is frustrating," said one respondent. "And the truth is that it might just be better at one part of what it does."
It can be difficult determining which of the numerous solutions on the market is the best one for your company, said another. "It's hard to understand whether we should go for a niche product or a broader solution, and understand whether a broad solution has the specific tools to get each job done."